---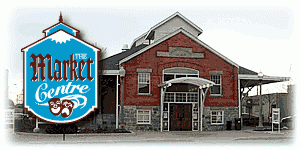 Construction began on this building in July of 1895.  102 years later, in the summer of 1996, after winning a bid and providing over $400,000.00 of raised funds, the Woodstock Little Theatre began it's first season with Anne of Green Gables.  Previously, they were at their own small buiding on Hunter Street (now the Woodstock Badminton Club).  The tradition of the building that brought people together to do their weekly shopping, now still brings people together to listen to great concerts and be entertained by first class theatre.
But in order to transform the Market Building into a modern theatre, many renovations had to take place.  As you enter the front doors to your right is the inside Box Office and immeadiately you would see the stairway up to the theatre.  If you were to go downstairs, to the left you would walk down to The Lounge, washrooms, kitchen, The Green Room and large change and storage ares for our actors and crew.
The theatre comfortably seats up to 250 people.  The floor is raked, which means everyone can see the stage without having to look between the heads of those in front.  Theatre Woodstock has, over the years, added and upgraded the lighting and sound equipment in order to provide the ultimate theatre experience for their patrons.