---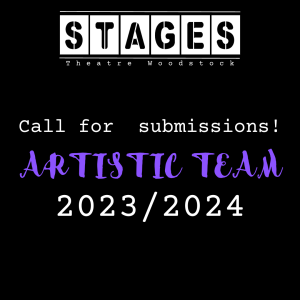 We are seeking artistic team members for the 2023/2024 STAGES Season including:
PRODUCER – DIRECTOR – STAGE MANAGER – CHOREOGRAPHER – MUSICAL DIRECTOR
Applicants apply individually. A small honorarium will be provided to the successful team candidates. Theatre Woodstock and STAGES are committed to providing inclusive opportunities for diverse team members and performers. Artists of all backgrounds, ages, races, ethnicities, gender identities, sexualities, body types and abilities are encouraged to apply.
IF YOU ARE INTERESTED IN BEING CONSIDERED, PLEASE COMPLETE OUR BRIEF ONLINE APPLICATION FORM BY APRIL 30th, 2023 AT 11:59PM:
Google Form
https://forms.gle/Kb8hHLauHfYk6kt18
If you have any questions or need any additional information, please feel free to reach out to stages@theatrewoodstock.com