---
STAGES: Aladdin Kids and Hoodie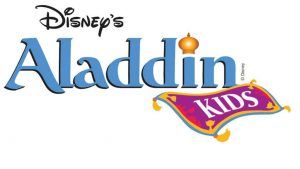 Alladin Kids (1st STAGERS )
Director: Jason Dunham
Music Director: Victoria Grant
A fantastic children's musical based on the iconic Disney animated film by Alan Menken, Howard Ashman and Tim Rice.  The musical centralizes around a street urchin, Aladdin, who vies for the attention of the beautiful princess, Jasmine. Thanks to the help of a magical genie, Aladdin becomes a prince in order to marry her. The musical includes the familiar characters of Lago, Jafar, the Genie, as well as several characters specific to the stage script, such as the Junior Djinn, a group of unique stage magicians who execute the magical moments of the show. Our creative team is bursting with ideas of how to transform the Theatre Woodstock stage into a magic carpet ride, and we hope that you come along for the journey!
---
Hoodie – Play (2nd STAGERS)
Director: Betty Ford
"Hoodie", is a play that is brand new to our theatre, delving into, learning, studying, processing, exploring, and creating while spreading an important message about teen pressure.  This production is to include the cast with developing meaningful statements regarding peer pressure, bullying, intimidation along with strength, determination, and ingenuity. Many young people have witnessed the safe environment of our theatre program over the years and it seems that now, more than ever, we need to promote inclusion and acceptance in our community. "Hoodie" presents the perfect opportunity.
Middle schoolers face a tornado of questions every day. What do I wear? What if I wear the wrong thing? What is she wearing? What do I look like? Stop looking at me!
Hoodie examines image and appearance in the vignette style and poses what may be the most difficult question of all – Do I stay in the clump or do I stand alone?
Date/Time
Date(s) - May 03, 2018 - May 05, 2018
7:00 pm - 9:00 pm

Location
The Market Centre
Categories
STAGES: Aladdin Kids and Hoodie