---
Strangers Among Us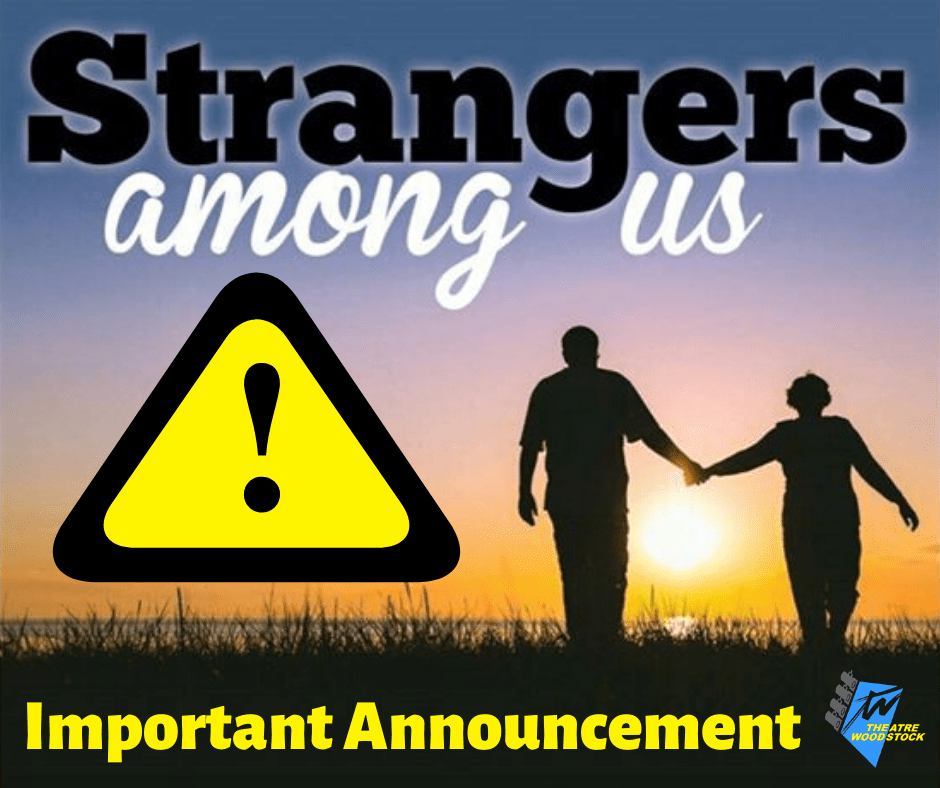 A Message from TW Regarding Strangers Among Us
Based on the current gathering limit recommendations of Public Health and the ongoing closure of the Market Centre Theatre to the public, Theatre Woodstock has made the difficult but necessary decision to cancel our upcoming performance of Strangers Among Us. While we are sad that this show will not be part of our season this year, we hope to reschedule these dates when the threat of COVID-19 has passed in our community. We will look at possible dates later this year or in 2021.
We want to sincerely thank our director, John Hammond, for the many hours he has put into this production, as well as the entire cast and crew for their heart and dedication. John would like to pass on the following message:
"By now, you've heard of the unfortunate cancelling of Strangers Among Us, which was due to run from April 17-25.  No one has felt this more acutely than the cast and crew, who had been working diligently to produce a show that tackles the very sensitive subject of Alzheimer's disease. Aaron Bushkowsky's play tackles this insidious disease's effect on family and other loved ones with humour, grace, and compassion.  It is a script about love, about loss, about life. It is a show that deserves to be shown.
On behalf of the entire cast and crew, I thank you all for your continued support of Theatre Woodstock. We look forward to finding the opportunity to share Strangers Among Us with you in the future.."
John Hammond 
Director, Strangers Among Us
If you had already purchased tickets for the show, you will be receiving a personal phone call from our Box Office sometime in the next couple weeks and given a few different options, including:
Option 1: Exchange for Other Tickets
Your tickets will be held in exchange for a future Theatre Woodstock or STAGES performance. If you are a Subscriber with season tickets we will be offering a discount on next year's subscription as an exchange option as well.
Option 2: Donation to the Theatre
In a time of global uncertainty, we are not alone in fearing for the future of our organization. Next year is our 75th year as a theatre company, and the idea of having to shut our doors permanently because of the financial loss that could come out of this crisis is a heartbreaking prospect, albeit a very real one. We have long relied on the generosity of our community donors to keep our shows running, and we would be extremely grateful to those who would consider the option of donating the cost of their ticket or the remainder of their subscription value back to the theatre so that we can continue to offer programming for many years to come.
Option 3: Full Refund
Although our policy in the past has largely been to exchange tickets, we understand that these are special circumstances and will offer a refund for the full cost of your ticket should you choose this option. Refunds will be granted electronically for those who purchased online, or over the phone if you paid in the Box Office. Currently the Market Centre Theatre is not open to the public for the safety of our staff members, so we ask that those seeking a refund do not visit the Box Office until the city chooses to re-open our doors.
——————–
At this time we have no further cancellations to announce, however with this situation developing rapidly in Canada and abroad we anticipate that there may be some additional changes to our operations and will continue to post updates on our website and social media. If you have any additional questions you may call our Box Office at 519-537-2582.
We are heartbroken to have to make this decision, but we feel it is necessary for the protection of our patrons and performers. We want to sincerely thank everyone who has been affected by the changes to our programming and hope that we will be seeing you all again in good health and spirits as soon as possible.
With thanks and best wishes,
Theatre Woodstock
————————————————————————————————
by Aaron Bushkowsky
Gabrielle and Michael meet by accident, fall in love, part, meet again and fall in love all over again. Every time they meet, they forget each other's name because they suffer from Alzheimer's disease.  In a long-term facility, Michael and Gabrielle find love again and, in the process, change the lives of the people around them.
April 17, 18, 19*, 23, 24, 25* @ 7:30 pm 
*Matinee 2 pm
Directed by John Hammond
Produced by Dianne Ingram
Stage Managed by Mona Brennan-Coles