---
SPOTLIGHT: Youth Mentorship Program

SPOTLIGHT: Youth Mentorship Program
For theatre enthusiasts in Grades 10/11 with performance experience.
Program Coordinator: Tyneisha de Baize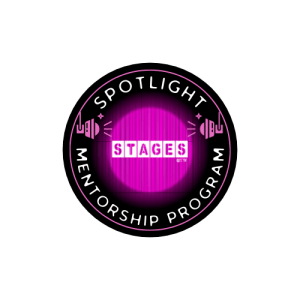 Program Overview:
Youth mentors will act as Rehearsal Assistants for the 1st and 2nd Stagers Virtual Shows in exchange for a certificate of program completion and high school volunteer hours. Directors for the Virtual Shows will provide the Program Coordinator with a list of actors who require additional rehearsal time every week, and then the Program Coordinator will assign a mentor to each actor.
Potential mentors will apply below and the Program Coordinator (STAGES Youth Liaison), STAGES Artistic Director and TW General Manager will review applications and select successful candidates.
Expectations:
Mentors will be required to read and familiarize themselves with the scripts/songs for both shows.
Mentors will be required to attend Tuesday evening rehearsals from 7pm-9pm and run lines, discuss character work, review blocking and notes with the younger actors assigned to them that week.
Mentors are encouraged to attend Saturday rehearsals to observe progress and understand directors' goals and expectations.
Mentors are expected to assist with additional tasks, including set construction/art, prop making, and editing.
Mentors must record all one-on-one Zoom sessions with performers and share the recording with the Program Coordinator and General Manager.
Benefits:
Potential to earn 60+ volunteer hours.
Receive a Certificate of Program Completion.
Expand personal theatre education.
Fast track future STAGES Camp Counsellor applications.
Resume growth for post-secondary applications and jobs.
Timeline:
End of February to middle of May
SPOTLIGHT: Youth Mentorship Program