---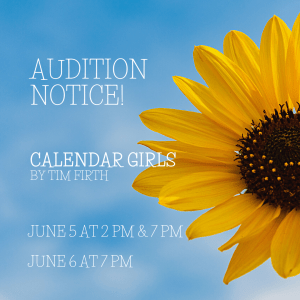 AUDITION NOTICE
Directed by Tanya Thompson
In an effort to find a sliver of good in the sadness surrounding personal tragedy, best friends Annie and Chris convince fellow members of their local Women's Institute to pose for a fund-raising calendar – in the (implied) nude!
If you're an adult actor, we'd love you to come and read for one of the 13 roles in Calendar Girls:
9 adult women – (6 roles involve implied nudity, 3 do not)
4 adult men –  (no implied nudity)
In addition to the cold reading, please bring a prepared piece of 1-3 minutes in length that you can recite.  This can be a nursery rhyme, poem, excerpt from a story, or monologue.  If you are stumped, please ask our producer to provide you with some prepared options.  The purpose of this exercise is simply to hear you read something you are familiar with in a relaxed voice.
Sunday, June 5 at 2 pm and 7 pm
Monday, June 6 at 7 pm.
Old St. PAUL'S Anglican Church
723 Dundas Street, Woodstock ON N4S 1E8
For a copy of the script and/or for more information, please contact
PRODUCTION DATES: October 13- 22, 2022