---
Coming Soon!
1st STAGERS: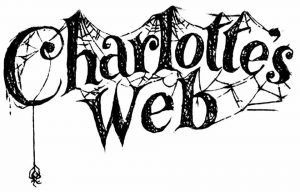 Adapted by Joseph Robinette. Based on the book by E.B. White.
Directed by Megan Dunbar
"The Children's Literature Association named this "the best American children's book of the past two hundred years," and Joseph Robinette, working with the advice of E.B. White, has created a play that captures this work in a thrilling and utterly practical theatrical presentation.  All the enchanting characters are here: Wilbur, the irresistible young pig who desperately wants to avoid the butcher; Fern, a girl who understands what animals say to each other; Templeton, the gluttonous rat who can occasionally be talked into a good deed; the Zuckerman family; the Arables; and, most of all, the extraordinary spider, Charlotte, who proves to be "a true friend and a good writer." Determined to save Wilbur, Charlotte begins her campaign with the "miracle" of her web in which she writes, "Some pig." It's the beginning of a victorious campaign which ultimately ends with the now-safe Wilbur doing what is most important to Charlotte.
2nd STAGERS: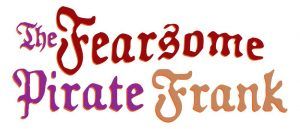 By Pat Lydersen
Directed by Sydney Brockway
"The pirate craze isn't just a modern phenomenon, it dates back to Shakespearean times, according to two witty narrators in this snappy comedy. As the story goes, the star of a popular pirate play — The Fearsome Pirate Frank — is the teenage heartthrob of every girl in Shakespearean England, even though he can't remember his lines for the life of him! However, when the actor playing Frank and his supporting cast, including prima donna Esmerelda, get kidnapped by real pirates during one of their productions, it's good-bye stardom, hello servitude on a real pirate ship! The narrators and a stream of hilarious sign-carriers keep the show moving as we see the pirate actors swabbing the decks under the orders of the real pirate Frank, who happens to be a woman. But pirate actors are not the only ones hijacked in this comic romp… so is the plot from a particular popular pirate flick! In a chilling flashback sequence, the tale of how Captain Frank received the 'Blackmark" comes alive as we see her send her crooked captain to walk the plank. Nightmare sailors, zombie pirates and hypnotizing mermaids fill this zany spoof with pop culture — even Spiderman makes an appearance!"
May 2, 2019  9:30am and 12:15pm
at
The Market Centre
on May 02, 2019 - May 04, 2019 at 9:00 am - 6:00 am
Book and lyrics by Anthony Drewe
Music by George Stiles
Directed by David DeJonge
Music Directed by Chuck Baxter
Choreography Bailey Thibodeau
Groovy for all ages, this STAGES unique 1960s stylistic adaption of the classic "ugly duckling" fable celebrates what makes us special, in a universal story about acceptance of self and others. This award-winning full Broadway edition show may evoke a tear or two, and plenty of smiles and laughs with its charming characters, songs and all around good vibes.
May 24, 25, 26*, 30, 31, June 1, 2019
*Matinee at 2pm. All other performances at 7:30pm
Sponsored by:

at
The Market Centre
on May 24, 2019 - Jun 01, 2019 at 7:30 pm - 10:30 pm
Theatre Woodstock presents Great Big Sea's Sean McCann
Séan McCann bought his first guitar in 1989 which he affectionately calls "Old Brown". Old Brown has been around. He was there for the first song Séan ever wrote. He was there as Séan founded Great Big Sea, the acclaimed and multi-million album selling band that would change his life. He was there to hold Séan up many a night as he struggled with addiction, and he has been there to help guide Séan out of the darkness with music as his medicine.
The latest album, "There's a Place", is a collection of songs from a man who is determined to remain "face to face" when we are tempted to keep our eyes buried in our screens and the artificial light of this digital age. It is the story of a man freed from the weight of a lie; a man who is changing his narrative and never forgetting……that he is not alone.
https://www.seanmccannsings.com/about-sean
Saturday, September 28, 2019 @ 7:30 pm
at
The Market Centre
on Sep 28, 2019 at 7:30 pm - 10:30 pm