---
Coming Soon!
Tania Thomas is an internationally loved and respected Spiritual Medium. Well known for her unique messaging style, Tania blends deep compassion with candor and light humor weaving the personality of those you miss into the words that you need to hear.
Joined onstage by the music of Sarah Smith this is an evening you won't want to miss.
Music. Messages. One night only.
at
The Market Centre
on Mar 02, 2018 at 7:00 pm - 10:30 pm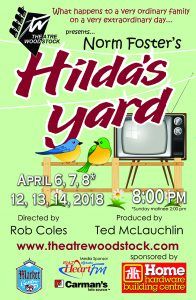 by Norm Foster
Directed by Rob Coles
Apr. 6, 7, 8*, 12, 13, 14, 2018
Set in 1956, it follows the Fluck family through one extraordinary day during which their son loses his job and moves back home, their daughter leaves her husband and moves back home and Sam Fluck, thinking that he and his wife Hilda are empty nesters now can start to live their own lives, buys a television set.  A poignant and funny look at how family dynamics haven't really changed much over the years.
*Matinee at 2:00 pm. All other performances at 8:00 pm
at
The Market Centre
on Apr 06, 2018 - Apr 14, 2018 at 8:00 pm - 11:00 pm
STAGES presents Grease!
Book, music and lyrics by Jim Jacobs and Warren Casey
Directed by David DeJonge
Musical Director Chuck Baxter
May 25, 26, 27*, 31, June 1, 2, 2018
The classic, award winning and timeless musical about teens in love in the 1950's.  It's California in 1959 and greaser Danny Zuko  and new (good) girl Sandy Dumbrowski are in love.  They spend time at the beach and when they go back to school, what neither of them knows is that they both attend Rydell High.
*Matinee at 2:00pm. All other performances at 8:00pm
at
The Market Centre
on May 25, 2018 - Jun 02, 2018 at 8:00 pm - 10:00 pm