---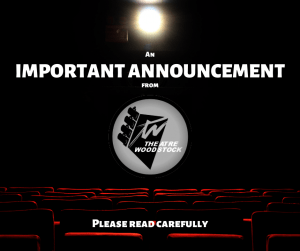 UPDATE March 25/2020:
As of March 17th, the scheduled production of Strangers Among Us has been cancelled. Ticket holders will receive a personal phone call from our Box Office with their options for exchange, donation or refund. Please see our posting below with more details.
————————————————————————————————
A MESSAGE FROM THEATRE WOODSTOCK REGARDING COVID-19 (March 15/2020)
To our valued patrons and volunteers;
At Theatre Woodstock our number one priority has and always will be the safety of our guests, staff, performers and volunteers. In an effort to aid the global initiative to stop the spread of COVID-19, we have made some changes to our operations, including the cancellation of some rehearsals and performances.
All STAGES rehearsals have been cancelled until a tentative return date of Saturday, April 11th. We will continue to follow the lead of the government regarding school closures. If additional cancellations are required we will notify parents/guardians as soon as a decision is made. At this time we are not intending on cancelling the performances of The Princess King/The Grunch on May 1st-3rd or The Addams Family which runs from May 22nd-30th, however we are aware that this is a rapidly developing situation and we are exploring all of our options if more changes become necessary.
The BeatleMania concert that was scheduled at The Market Centre Theatre on March 28th has now been rescheduled to June 27th, 2020. All ticketholders who purchased their tickets before Friday, March 13th have been contacted with an offer of exchange or refund. If you have further questions about your tickets please call our Box Office at 519-537-2582.
At this time we have yet to reach a decision about our next show of the season, Strangers Among Us, which was set to perform from April 17th-25th. We will update all ticket holders immediately if any changes are made to the production's schedule.
We want to thank everyone for their patience and understanding as we navigate this truly unprecedented situation. Our hearts go out to everyone in our community in this uncertain time, and we hope that in the very near future the show will go on.
All updates regarding Theatre Woodstock and STAGES activities will be posted on our website and social media.
Best wishes for safety and good health,
Theatre Woodstock and STAGES
For up-to-date information and resources on COVID-19, you can consult the Government of Canada's page here:
https://www.canada.ca/en/public-health/services/diseases/2019-novel-coronavirus-infection.html